Watch Beats (2019) Online In HD
Beats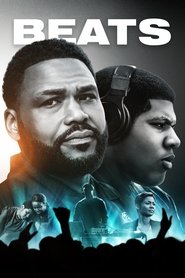 An agoraphobic hip-hop prodigy and a disgraced former music manager cross paths in Chicago's South Side and help each other face demons of their pasts.
Beats is an American coming-of-age–drama directed by Chris Robinson from a screenplay by Miles Orion Feldsott. The film stars Anthony Anderson, Khalil Everage, Uzo Aduba, Emayatzy Corinealdi, Paul Walter Hauser, Dave East, Ashley Jackson, Evan J. Simpson, and Dreezy. A reclusive, teenage music prodigy forms an unlikely friendship with a struggling producer. United by their mutual love of hip-hop, they try to free each other from the demons of their past and break into the city's music scene. The film has received positive reviews.
Young teens are out on the Chicago streets. A single mother, Carla, has cooked dinner and sends her daughter, Kari, out to find her brother, August. Both kids are shot and Kari dies. As a result August is trapped in his room with PTSD and anxiety attacks. Carla goes to work every day and is the overprotective mother of August. August watches from his window his best friend Laz sell drugs and pines for the girl of his dreams Niyah.
The school principal, Vanessa, tells the staff that she is going to cut personnel if attendance does not improve. She hired her soon to be ex-husband, Romelo, as the school security guard. August has not been to school for months and he tries to get August to come back to class. He was unaware of the boy's trauma but he hears a great beat in the teen's music. Secretly he befriends August. He sees the boy as his ticket back in the hip-hop music scene and a way to keep his wife. Slowly the two work on the music together.
Romelo tells August to find a reason to write music and the girl Niyah is perfect except his friend Laz likes her too. The song is written and delivered to Niyah. She likes this strange boy. Romelo sets up a date and makes contact with his old music producers. Queen Cabrini sings the song at a street party and it's a winner. Problem is no one told Mom. She comes home from work and no son at home. She calls the police and Romelo ends up arrested.
August trashes all the music equipment in his room and run's off. August blames himself for his sister's death and for being such a burden on his mother. Romelo explains he is just a boy and the world's problems are not his fault. He confesses to August that he was using him too. They can do things the right way. August starts back to school welcomed by Principal Vanessa and girlfriend Niyah.